Wall #3
, 2018. Oil on canvas. 195x140 cm
Wall #2
, 2018. Oil on canvas. 195x140 cm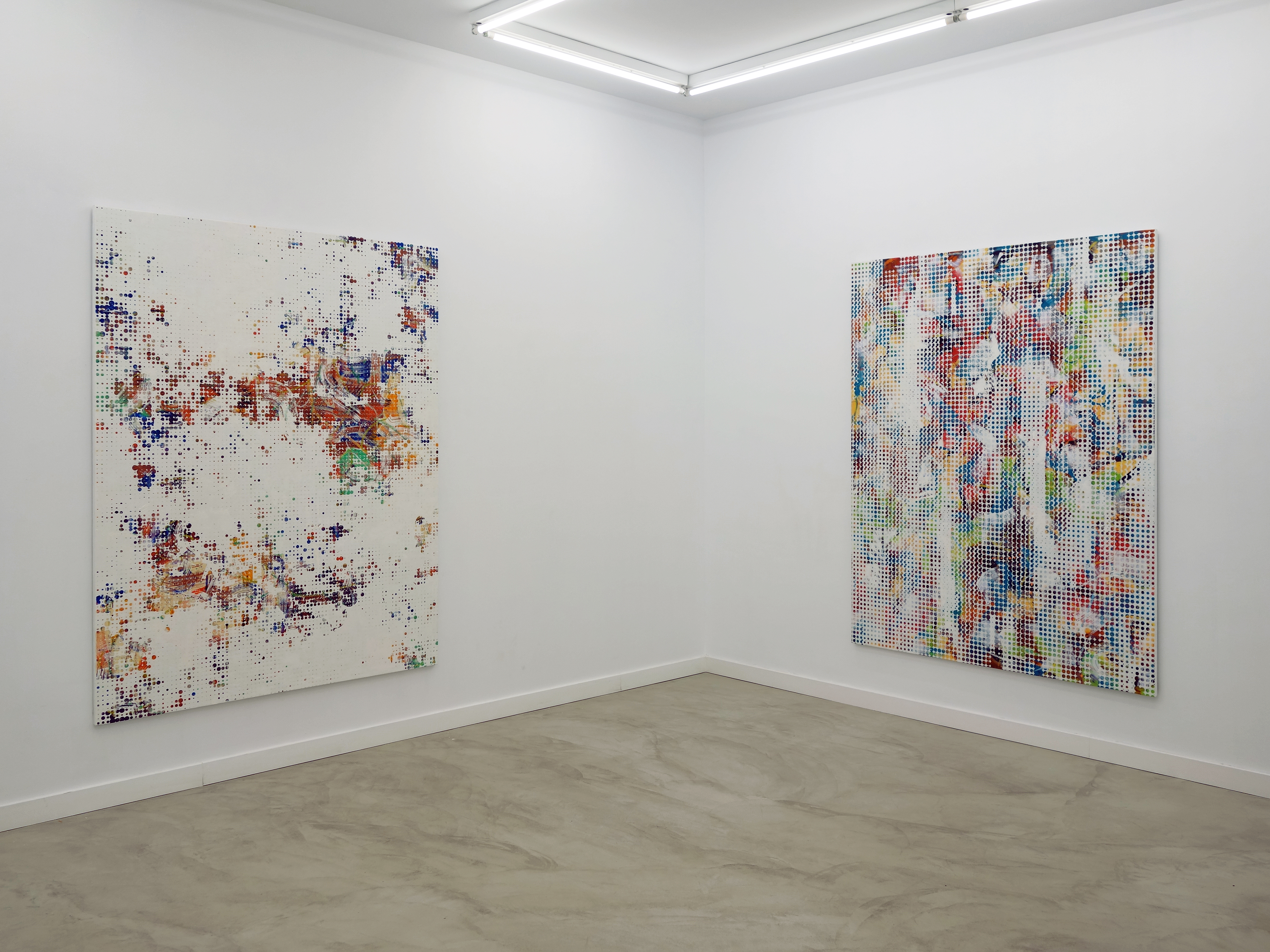 Paraísos Artificiales. Instalation view. Galería Pilar Serra. Madrid, 2018


Nets #2, 2018. Oil on canvas. 112x198 cm


Gradient #2
, 2018. Oil on canvas. 86x66 cm
Topos #7
, 2018. Oil on board. 144x110 cm
For Adrián Navarro the purpose of painting is to solve problems.
Problems pertaining to composition, colour and procedure but also to the place human beings should occupy in today's world.
Therefore, Adrián tries to construct his painting by asking himself which space corresponds to us in a world that is constantly overwhelming us with a torrent of fragmentary images, bereft of meaning and more and more aggressive and harmful for liberated and active human beings.
In response to this question, Adrián applies his training as an architect and embraces the study of structures in his work, which have no beginning and no end, in which we have confined ourselves: networks, screens, message walls, successive chains of signifiers, all more or less sophisticated and, at the same time, more and more opaque.
In conjunction, he has recourse to the craft of painting to capture the dark throbbing creature writhing below these confines and that the full screen barely manages to contain. It falls to painting to try to explain the abstract form of this shadow that threatens, with its corrosive eroticism, the sophisticated castles erected around us, built out of filaments and fibre glass.
Man and map in conflict, therefore, locked in a dialectic that machines will never manage to reflect as accurately as brush on the canvas. For good reason, this is the seismograph given to man at the dawn of time to identify the scope and depth of his anguish.
Precisely because it reflects his problem-solving vocation so faithfully, Navarro's painting exhibits the lucid, serene, balanced palette of somebody who has spent his life looking at art; but also, the acid, terrible, wild coloration of someone who lives fighting with painting to win the title of painter every day he walks into the studio.
We are looking at pictorial integrity, which asks if the second path indicated by the French poet is still possible today.
Far from being a port of arrival, the fascinating artificial paradises that Adrián Navarro proposes extend the landscape and invite us to seek out new pathways, new topographies and maps that call into question the road maps thrust on us so fervently and insistently by today's world.

Karpov Sherlby— Adrián Navarro: Paraísos Artificiales — Madrid, 2018